Forklift Crash Course Part 1

---
By Western Material Handling - March 28, 2019
Forklifts have been in existence since the 1920's and the imports, like Toyota have been made since the mid 1950's.  The first Toyota was brought into the US in the late 1960's.
Forklifts or Industrial Trucks are designed to lift and carry loads, not to push and pull.
Here are the most common types for forklifts:
Warehouse operations will usually want a cushion tire forklift.  A cushion tire forklift will work in a tight warehouse operation because of its compact size.  They will get stuck in soft dirt. They have a shorter wheel base and are narrower and shorter than the same size pneumatic tire forklift.  Cushion tire forklifts have a press-on tire that can be non-marking (white or gray) or regular black (will leave marks on the floor) and the tires can be smooth or traction tread.  The tires need to be replaced when they are worn down to the tops of the numbers on the sides of the tire.  Cushion tire forklifts will work in an aisle width of around 12'.  They come in a 3,000 to 8,000 lbs. capacity normally but are made up to 30,000 to 50,000 lbs.  All fuel types are available.  We are the Tailift dealer.
Class 4 Cushion Tire
Outdoor applications will usually need a pneumatic tire type forklift.  The actual tire may be air filled, foam filled, or be solid rubber but they all have a pneumatic tire appearance.  Pneumatic lifts will work best on softer ground, rough surfaces, or on slick surfaces.  They are wider, longer, and have a longer wheel base than a cushion tire forklift which is why they are better on rough or slick surfaces.  For the same reasons, they do not work as well inside a warehouse and will require additional aisle width to operate in. Diesel, LP gas, gasoline, dual fuel (LP and Gasoline), and even electric fuel types are available. Capacities range from 2,000 to 90,000 lbs. and higher.  We are the Tailift dealer.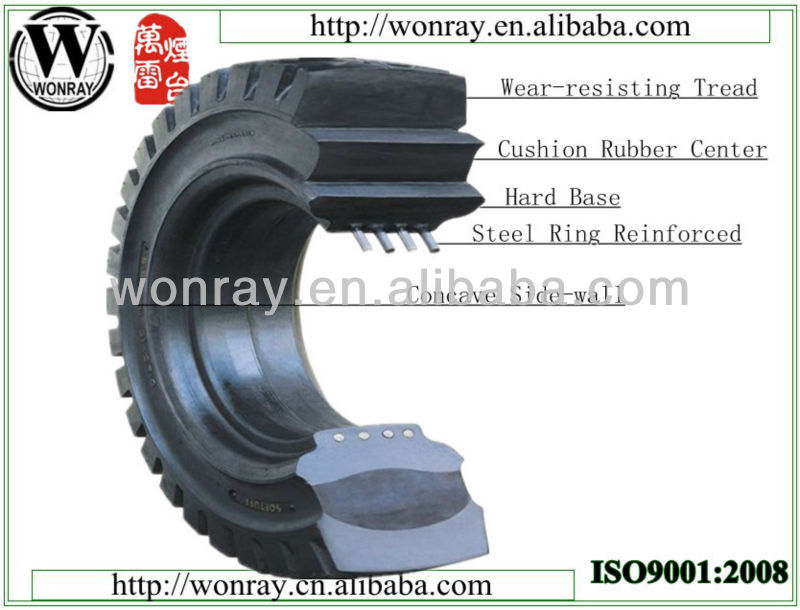 Class 5 Pneumatic Tire
4-wheel Electric sit-down forklifts are more compact
than their IC powered counterparts so you can sell a larger capacity electric to work in the same place as an IC powered lift giving you more flexibility in meeting the customer's space requirements.  They can work in an aisle width as narrow as 10-12'.  Cushion press-on tires are normal. Electrics are quieter than an IC truck, climb steeper ramps, and they leak less since they do not have an IC engine oiling system or a transmission. 
Class 1 Electric Sit-down 4 Wheel
Three wheel Electric sit-down forklifts are very compact
and work in a narrow aisle as they turn in
less than their own length due to their inside tire turning opposite in a tight turn due to their dual drive motors.  Capacities from 3,000 to 5,000 lbs. and they will work in an aisle width of just 10'.  Normally have cushion press-on tires.
We have the Tailift line.
Class 1 Electric Sit-down 3 Wheel
Pneumatic tires come on Three wheel and Four wheel
sit-down electrics as well as internal combustion (IC) powered trucks.  Tailift makes pneumatic 4 wheel sit-down electric with 48V-80V AC system and battery.  Pneumatic tires are an option on Tailift three wheel sit-down forklifts and most other brands as well.  24v, 36, and 48v battery and systems.
Class 1 Electric Pneumatic
The electric Counter-Balanced Stand-Up is one of the most versatile of all forklifts.  This forklift enjoys the tight turning radius of a three wheel electric sit-down with it's dual drive motors and three wheel design and will work in around a 10' aisle.  It has adequate ground clearance to allow it to go across a dock plate and into a trailer, and it will go out into a parking lot and traverse moderate height differences.  Capacities from 3,000 to 5,000 lbs. and lift heights over 200".
Class 1 Electric Stand Up End  Control (Docker)
Narrow Aisle Forklifts
Electric Order Picker
forklifts are used to build loads in a warehouse.  The operator goes up with the pallet and moves items from the rack to a pallet or platform on his forks.  Some applications like a furniture warehouse may have a platform up to 3' x 8' to move furniture and other bulky items.  Typical units have a 3,000 lb. capacities and lift heights up to 400".  Operators must wear a body harness and tether themselves to the unit in case of a fall.  This type of lift works well in narrow aisles but this type of lift is limited as a regular forklift.
Class 2 Electric Order Picker
The electric Narrow Aisle Single and Double Reach stand-up forklifts are designed for smooth concrete floors and because they have outriggers they are shorter and will work in an aisle as small as 9'.  The outriggers move the fulcrum (tipping) point forward and eliminate the need for additional counter weight but it also limits where the forklift can travel as they have almost no ground clearance.  They cannot go outside unless it is very smooth and cannot go across dock plates.  Capacities of 3,000 to 4,500 lb. and up to 400" lift heights are available.
Class 2 Electric Narrow Aisle Single Reach
The single reach version will reach the carriage out to the end of the out riggers to pick up the load and then the load is retracted to the mast for travel.  The double reach version will extend into the middle of the pallet behind the first pallet so the pallets can be double stacked increasing the storage capacity of the warehouse.
Class 2 Electric Narrow Aisle Double Reach
Very Narrow Aisle Forklift
Electric Swing Mast
forklifts will work in an aisle width around 4'6".  They are limited to smooth floors and will not travel over a dock plate and into the back of a trailer and do not work well in parking lots.  They do allow the racking to be set very close together to increase the capacity of the warehouse.
Class 2 Electric Man Down Swing Reach Turret
Electric Man Up Swing Mast
forklifts allow the operator to go up with the load to see what is being picked up which comes in handy when you are 30' or so off the ground.  These forklifts are expensive and very specialized and are usually guided by a wire buried in the concrete that the lift follows.
< Go Back